Back to Diagrams
Drake
by Mike Case, ©2006
Last modified December 2006

0) To give your Drake toes, first follow the method shown in John Montroll's Animal Origami for the Enthusiast for the Frog with Toes, but only folding the sides in 1/16 of the paper on each edge.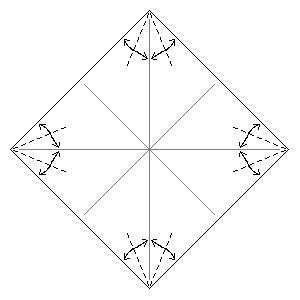 1) Crease where shown.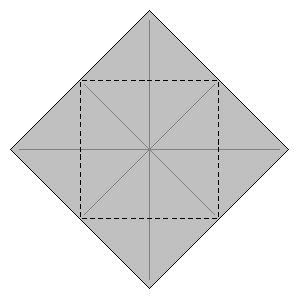 2) Fold the corners in to the centre.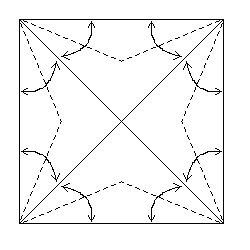 3) Crease where shown on the top layer only.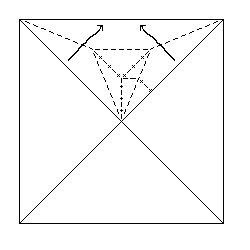 4) Valley fold the raw edges to the side, collapsing where shown (the centre of the triangle is a sort of inverted rabbit-ear).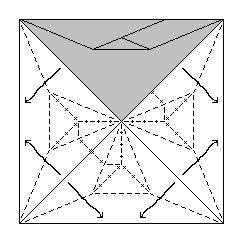 5) Repeat Step 4 on the other three flaps.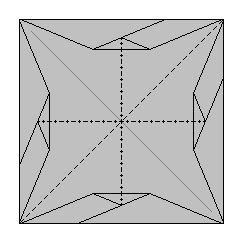 6) Fold a preliminary base.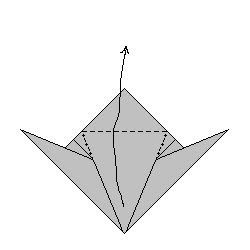 7) Petal fold the point up. Repeat behind.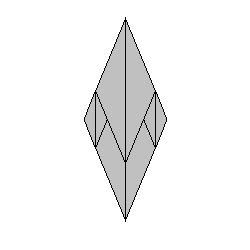 8) Like so.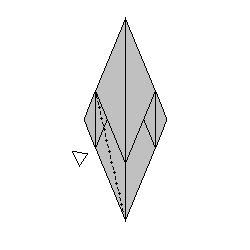 9) Sink the edge of the flap where shown. Repeat on the other eight flaps. (The sinking is only necessary if you are making the 'spread' head below- if you are making a different head you can use alternating mountain and valley folds to narrow the points.)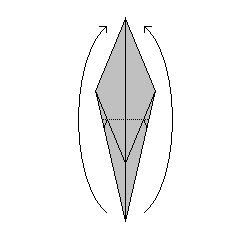 10) Reverse fold the lower points up.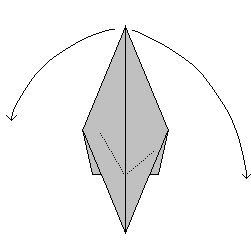 11) Reverse fold the head and tail out roughly along the dotted lines. (From this point on folds are pretty much to taste. Any number of different arrangements of head, legs, wings, and tail are possible.)
12) Outside reverse fold the outer two layers while pushing in from the bottom and spreading the interior layers to form the head. Reverse fold the arms and legs where shown.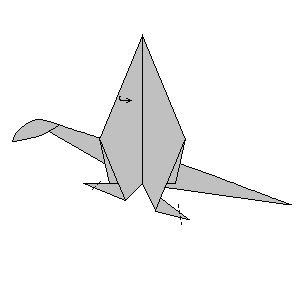 13) Roll the front edge of the wing in slightly. Reverse fold to form hands and feet.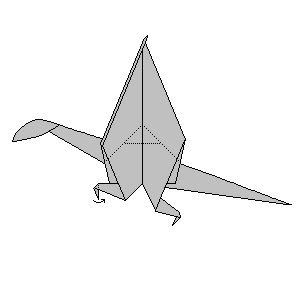 14) Sink the hidden point along the back where shown. Valley fold the front flap of the hands.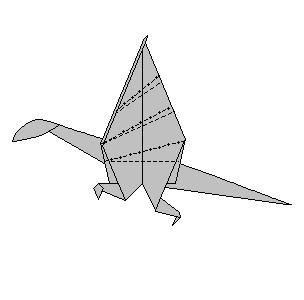 15) Pleat the wings where shown.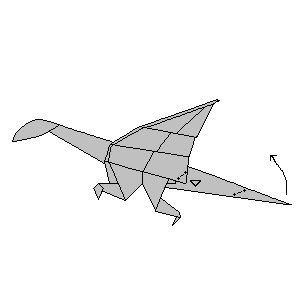 16) Reverse fold the lower corner of the wing. Reverse fold the tail so it is roughly even with the level of the feet.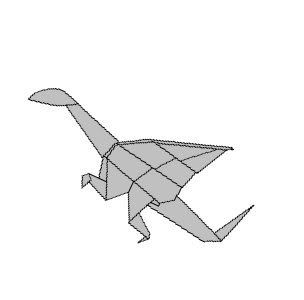 17) All done!
The finished Drake: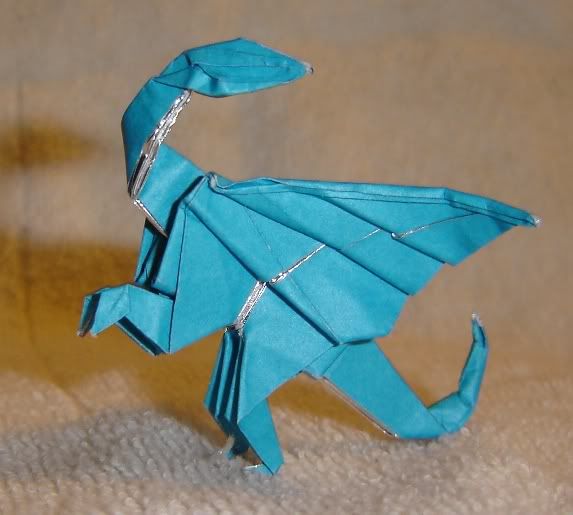 A minor variation with fingers and longer legs (the extra length comes from petal-folding 2 of the corners in Step 0 instead of wing-folding):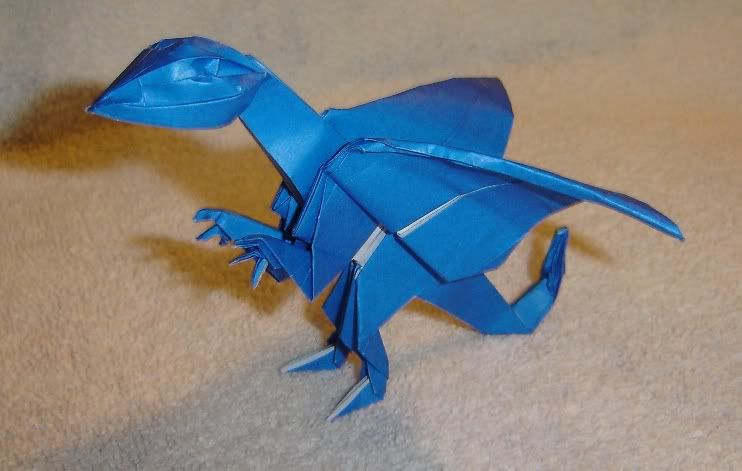 The two together: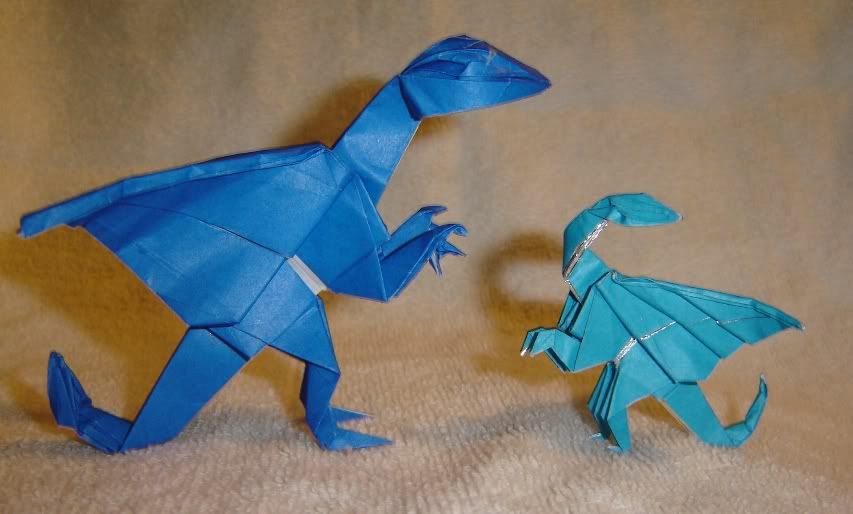 Another variation, made with foil-backed iridescent scrapbooking paper (this treatment of the wings suggested to me by Julia Niemeyer):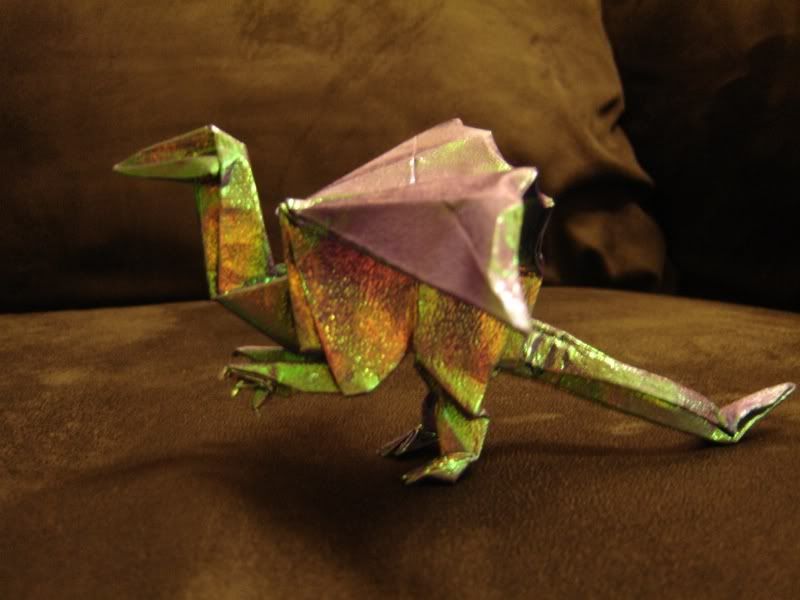 The same model again, but under different light: