Reproducing Pianos
||
Player Pianos
||
Pipe Organs
Reed Organs
||
Promotional Literature
||
Miscellaneous
Music Roll Catalogs
||
Instrument Catalogs
Original Literature of Vintage Mechanical Musical Instruments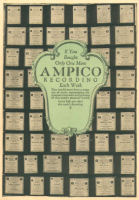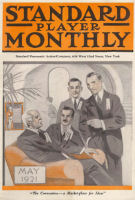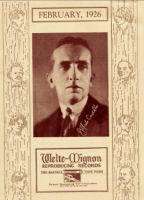 Many thousands of people worldwide share a common interest in vintage mechanical musical instruments. They may share an affection for the music and its musicians of that golden era. Others share a fascination for the incredibly ingenious mechanical mechanisms devised without benefit of computers and contemporary technology. Some choose to associate with one another through associations such as AMICA (Automatic Musical Instruments Collectors Association), MBSI (Musical Box Society International) and PPG (Player Piano Group). There are many other associations worldwide, these are but a representative few.

Many collectors of this unique slice of our musical heritage also collect original literature associated with the manufacturing and marketing of these wonderous machines. All too often, this segment of our collecting passion tends to be obscured by the highly visibile machines themselves, appealing to the 3 senses of sight, hearing and touch. Very often, these delightfully appealing machines are shared with the general public, be they home tours, local charity events, association events, and/or neighborhood gatherings.

However, serious research into the remarkable history of these music machines can only be realized through access to original literature. Regretably, much of this original literature tends to be hidden away in filing cabinets, workshops, libraries, et al, and all too often not accessible to serious researchers. In my own 40+ years in this delightful avocation, I too accumulated my fair share of original literature. But why should I be the only one to be able to see, enjoy and absorb our published history?

So, I set about to make my own collection of original literature accessible by converting it into digital files and posting these files on an open public web site. The documents following are a beginning, a fine exampe of the internet at its best. Most are in Acrobat PDF format. Others will emerge with time and will be added as web space permits. This is made possible through the generosity of Jody Kravitz and Robbie Rhodes who kindly made available substantial disk space on MMD for this project. If you like what you see here, say thanks to them at (rolls@foxtail.com).

Since I started this project, others such as Richard Stibbons, Anthony Robinson, John Dousmanis, Ed Gaida, Marv Polan, and Larry Norman have kindly made available to me portions of their personal collection of original literature. Others are encouraged to do likewise.

Once such collection I am working on is the Howe Collection of some 25,000 items (500,000 pages) donated to the University of Maryland (IPAM) in 1995. Negotiations are currently underway to encourage the university to make available digital copies of portions of this collection. Due to the mammoth magnitude of Richard Howe's collection, this will be a very long term project that will in all certainty long outlive me. Stay tuned.....

There is no reason why others cannot do likewise. In vast majority of cases, internet users do have web site space available to them, albeit very often unused. Sharing original literature is relatively easy to do. All that is required is a flat bed scanner and web space. Think positive about sharing various items within your personal collection of original literature.

Enjoy!

Terry Smythe
Winnipeg, Canada
smythe@shaw.ca

Click on the following links to see links to original literature of interest.